Product Traceability
Since 2006, we have supported pharmaceutical companies during such phases as requirement definition, evaluation, design and implementation of a global solution for serialization and track&trace in order to protect patients and brands and to comply with regulatory requirements.
Our team provides many years of experience implementing item-level serialization and track&trace solutions. It started with California ePedigree, Turkey MoH, China SFDA till the successfully implemented European Falsified Medicines Directive (FMD).
Currently we are supporting our customers as they prepare for US Drug Supply Chain Security Act (DSCSA) using Blockchain technology, as well as implementing a tracking and tracing requirements for Russia.

Example European Falsified Medicines Directive (FMD)
To prevent counterfeiting medicine, all pharmaceutical products sold on the European market will require obligatory "safety features" for medicines by February 2019 * in order to guarantee medicine authenticity and to secure the medicine supply chain.
The FMD "safety feature" consists of a 2-dimensional barcode with product identification, serial number, batch number and expiration date. This serialization is only required on salable units, with a randomized serial number issued by the manufacturer. Products are identified by means of a GS1 GTIN and/or a country-specific product code, based on country requirements.
The 2-dimensional barcode is applied by the manufacturer or re-packager, who is obliged to report this serialized product information to the European database.
The regulations specify that dispensers (e.g. pharmacies, hospitals) verify the medicine authenticity prior to dispensation. Scanning the 2-dimensional barcode and verifying the information with a national system which was updated with manufacturing information at time of product release on the market. The dispensation triggers the "deactivation" of this specific medicine to ensure that each medicine can only be dispensed once.
* The deadlines for implementation of the requirements are in February 2019 and 6 years thereafter for Belgium, Italy and Greece.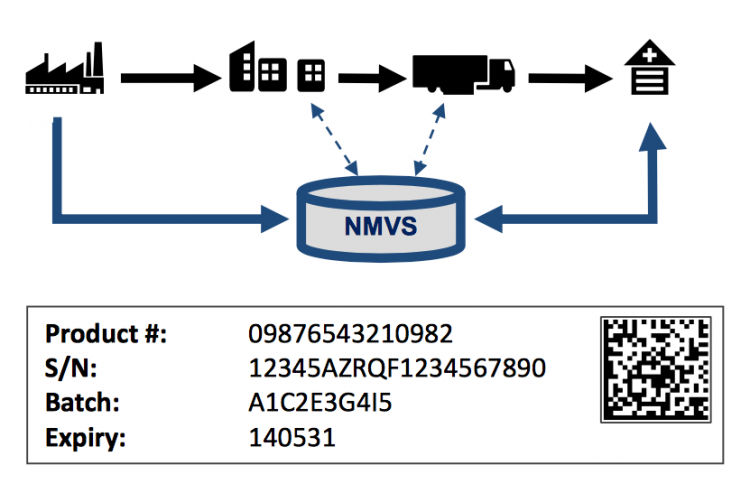 Source Graphik: EMVO Präsentation